Product Description
Ford Fo-21 & Jaguar Tibbe Rotating Clamp Highlights:
Global patent technology
Rotate automatically while 12 & 16 sides cut for Fo21 & Tibbe Rotated Key
Set Built-in-stacode 
Standard Clamp for Laser Key, Standard Key, Cruciform Key, Dimple Key, Sided Key, Tracked Key (Extra more Hu162-T,Toy2,Hu66)
Ford Fo-21 & Jaguar Tibbe Rotating Clamp for 2M2 TANK Automatic Key Cutting Machine
Ford Fo-21 & Jaguar Tibbe Rotating Clamp Highlights:
Global patent technology
Set Built-in-stacode
Rotate automatically while 12 & 16 sides cut for Fo21 & Tibbe Rotated Key
Standard Clamp for Laser Key, Standard Key, Cruciform Key, Dimple Key, Sided Key, Tracked Key (Extra more Hu162-T,Toy2,Hu66)
Key Blank Installation:
1. Loosen the screw.
2. Remove the standard fixture.
3. Remove the probe.
4. Install the FO21/TEB1 fixture.
5. Tighten the screw.
6. Insert New key blank.
7. Align the red line of the axis to the red line on the right.
8. Turn the key blank off the horizontal position.
9. Tighten the nut by hand at first.
10. Use the fixed block to locate the key blank.
11. Pull the key blank towards the arrow.
12. Rotate the nut and tighten it.
13. Use the red spanner to fix the axis;use the blue spanner to tighten the nut.
14. Move the fixed block away.
Key blank installation is finished, the last step is to connect the power line and click confirm.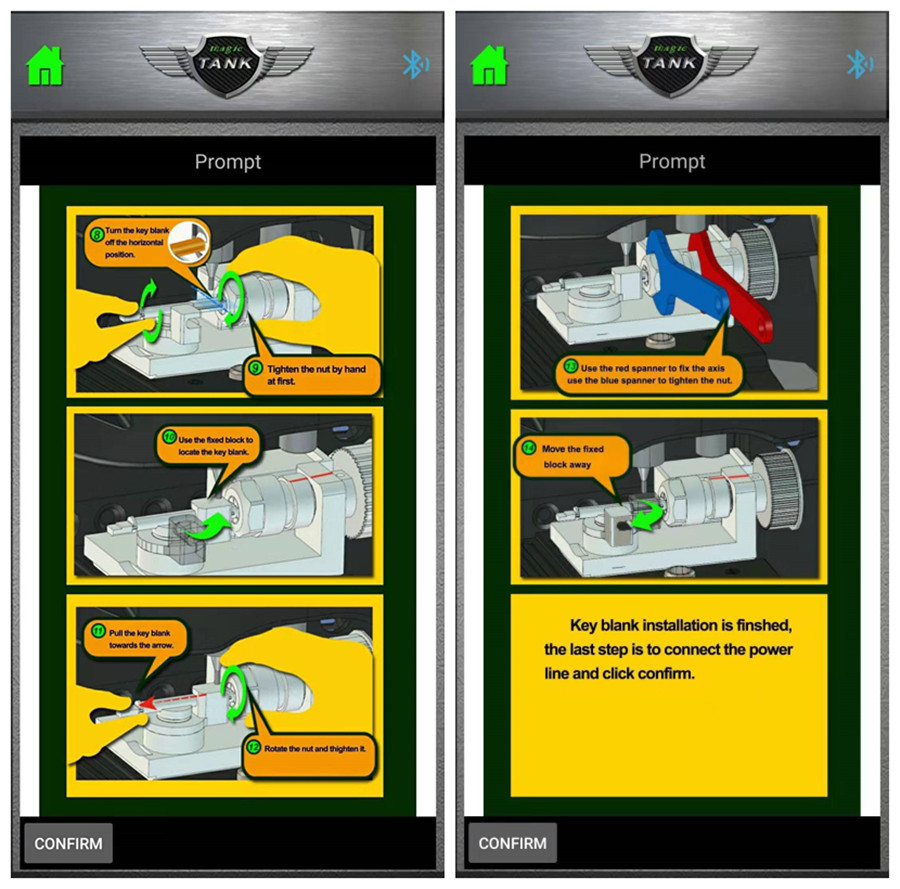 Package includes:
1PC x TANK 2-in-1 Automatic Key Cutting Machine Automatic Rotating Clamp
Contact Information:
Whatsapp: +86 18046220975
Email:
Sales@CarKeySale.com
Skype: CarKeyWholeSale.com
Facebook:
https://www.facebook.com/carkeywholesale
Shipping Tips:
If you have any problems, please feel free to contact us.
Video
How to install FO21 clamp for 2M2 magic tank machine?